The Oncology Care Model: Aligning Financial Incentives to Improve Outcomes
---
The US healthcare system remains one of the most inefficient healthcare systems in the world. The Bloomberg Health-Care Efficiency Index ranked the United States 50th among 55 countries in 2014, with only Jordan, Colombia, Azerbaijan, Brazil, and Russia performing worse.1 And this is despite spending more than $9400 per capita annually on healthcare, a figure representing 17.1% of the gross domestic product.
Paul Ginsberg, Director of the Center for Health Policy at the Brookings Institute, commented that the US healthcare system "tends to be more fragmented, less organized and coordinated, and that's likely to lead to inefficiency."1
Although these inefficiencies are becoming ever-more glaring, oncology care is advancing at a rapid pace, with improvements in survival rates in many types of cancer, leading to more than 14 million cancer survivors in the United States as of January 2014.2 In 2015, 33 new indications were approved by the FDA for new cancer drugs,3 and several new molecular tests are currently being evaluated for companion diagnostics that will ultimately scale personalized treatment in oncology.
Despite the rapid advancements in treatment, the discovery of new drugs, and new technology aimed at improving patient outcomes, the overall performance of the US healthcare system has not met expectations. Recent reports from the Institute of Medicine concluded that cancer treatment in the United States lacks in consistent quality and is neither patient-centric nor well-coordinated.4,5
The fee-for-service payment model never laid the expectation of cancer care to emphasize value or quality of care. The rapid, but hurried and disorganized, multidirectional advancements in payment models, such as pathways or capitations, were never formulated to affect the quality of care under the volume-driven model.
However, under the 2010 Affordable Care Act, the Centers for Medicare & Medicaid Services (CMS) established the Center for Medicare & Medicaid Innovation (CMMI) to pilot new and innovative payment models to incorporate the value element in the delivery of healthcare.
The Oncology Care Model (OCM), which launched on July 1, 2016, is one such pilot program that is intended to shift reimbursement and tie payment to value under the broader umbrella of transitioning to value-based care.
A New Care Delivery Model
The OCM is a new cancer care delivery model that encourages participating providers and practices to align financial incentives to improve care, add the quality component, and enhance patient experience, while reducing the cost of care.
More than 400 oncology practices from across the country submitted letters of intent to participate in the 5-year pilot program when it opened in the spring of 2015. Overall, 196 practices (totaling 3200 oncologists; approximately 20% of all practicing oncologists from different settings) were selected to participate in the OCM. In addition, CMS encouraged private commercial payers to participate; although 17 payers originally signed up to participate, 16 national and regional payers are planning to move forward and begin implementing the OCM in 2017.
Administering chemotherapy (oral or parenteral) for patients with diagnoses that are outlined in the OCM summary document triggers an OCM episode. Contrary to the traditional fee-for-service model, OCM providers are encouraged to take on a greater role and responsibility for the patient's overall cost of care under a 6-month bundle payment, supplemented by monthly care coordination fees through Monthly Enhanced Oncology Service payments of $160 to facilitate transformation expenses and provide additional resources.
OCM providers are required to offer standard-of-care treatments in accordance with nationally recognized guidelines and pathways. They are also required to report quality matrices in accordance with the CMMI-recommended parameters to enable gainsharing after a discount, as determined by CMS.
Providers and practices will make every effort, including practice transformation activity, to reduce the total cost of care to below the target price during an episode of care. The primary goal of reforming the payment system under this pilot program is to enable, encourage, and reward providers who are willing to accept the imminent paradigm shift in the healthcare delivery.
Financial incentives are aligned to improve care and achieve better health for patients with cancer who receive oral or intravenous chemotherapy drugs.
Practices participating in the OCM pilot are required to perform 6 fundamental transformation processes (Figure 1), including:
Provide patient navigation
Document a 13-point care plan in accordance with the IOM recommendations
Provide access to a qualified clinician 24/7, with real-time access to patients' medical records
Use treatment in accordance with recognized treatment guidelines
Monitor data to improve quality
Use electronic health records that are certified by the Office of the National Coordinator for Health Information Technology.
Quality Improvement at Lower Costs
The multipayer OCM pilot will likely change not only quality improvement and payments linked to quality, but also the way physicians think and deliver care. In the current fee-for-service model, reimbursement automatically places increased emphasis on raising volume to increase productivity, with patients left as the ultimate losers. However, under the OCM, patients, caregivers, and their microecosystems become the central force that directs care in accordance with their input, preference, and choice. The OCM has the potential to reduce healthcare costs while improving patient quality of life and outcomes.
CMMI will be offering shared savings to reward high performance and reducing the cost of care to below the target price. CMS will provide a discount of 4% for practices participating in the one-sided risk model and 2.75% for practices participating in the two-sided risk model. The savings offered will be adjusted by performance based on quality reporting. Practices will be reporting quarterly on 12 OCM quality measures.
Participating practices will also be subject to monitoring, including on-site visits, by CMMI. CMMI has appropriately adjusted the risk factors to accommodate multiple comorbidities, dual-eligible status, surgical intervention, radiation therapy, as well as clinical trial participation.
Our Experience
Practices participating in the OCM pilot vary in size, location, and administrative structure, leading to different methodologies that each practice will need to apply to fulfill CMMI's requirements and improve care while reducing the total costs of care.
At Carolina Blood and Cancer Care Associates, we decided to take an approach based on our experience of undergoing a practice transformation toward the National Committee for Quality Assurance (NCQA) accreditation. Our path for the NCQA accreditation had many common denominators with the OCM; hence, we adopted some of the processes that we applied during our NCQA accreditation. Figure 2 and Figure 3, and the Table highlight the main points related to our practice transformation process.
Under the practice transformation requirements leading to compliance with the OCM recommendations, the lowest-hanging fruits for a scope of improvement in the delivery of care and quality of life revolve around improving access to care, including same-day appointments and weekend access, while avoiding unnecessary emergency department visits and hospitalizations.
Providing care when needed to the best of the practice and the provider abilities has been shown to reduce emergency department visits and hospitalizations, and thus, reduce the overall cost of care.6-8 In our practice, we believe that the implementation of an OCM will result in the projected cost reductions shown in Figure 4.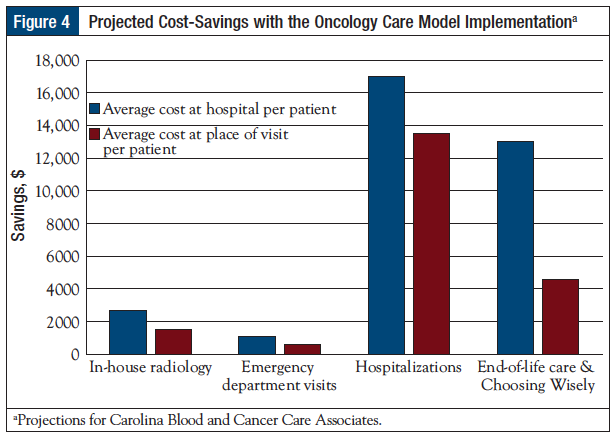 The Future: Value-Based Care
The OCM is the first major initiative by CMS to pilot the transition from fee-for-service toward value-based care. CMS has been relatively flexible and accommodating of changes made to the program in response to stakeholder input. However, areas of concern remain, including the main issue of the negative penalty for exceeding the target price of care.
Oncologists participating in the OCM are held responsible for the total cost of care, regardless of the origin of that cost. For example, if a patient under the OCM pilot is involved in a motor vehicle accident and requires hundreds of thousands of dollars worth of interventions, the cost of this care will be part of the bundle that the oncologist will be responsible for, although according to the Winsorization formula (which identifies Medicare beneficiaries outside of statistical variables, which limits its practice attributes), risk exposure will be capped at 95%.
Many lessons remain to be learned by oncologists participating in the OCM. This is compounded by the recent announcement of the Medicare Access and CHIP Reauthorization Act (MACRA) final rule,9 where a negative risk exposure of an oncologist is limited to 3% based on resource utilization at the most, versus the 20% risk exposure in the OCM.8
Conversely, the upside bonus for top performers in the Quality Payment Program track under the MACRA final rule could exceed 20%.10 This may become further complicated, given the uncertainty surrounding the 2017 change in the federal administration and its healthcare agendas.
We will patiently wait and watch for the implications of all these factors in terms of the success or failure of the first-ever, multipayer collaborative effort to reform the delivery of cancer care to be cost-effective, efficient, patient-centered, and of superior quality.
---
References
Du L; for Bloomberg. U.S. health-care system ranks as one of the least-efficient. September 28, 2016. www.bloomberg.com/news/articles/2016-09-29/u-s-health-care-system-ranks-as-one-of-the-least-efficient. Accessed November 17, 2016.
American Cancer Society. Cancer treatment and survivorship facts & figures 2014-2015. 2014. www.cancer.org/acs/groups/content/@research/documents/document/acspc-042801.pdf. Accessed November 16, 2016.
US Food and Drug Administration. Hematology/oncology (cancer) approvals & safety notifications. Updated November 10, 2016. www.fda.gov/Drugs/InformationOnDrugs/ApprovedDrugs/ucm279174.htm. Accessed November 16, 2016.
Institute of Medicine. Cancer Care for the Whole Patient: Meeting Psychosocial Health Needs. Washington, DC: National Academies Press; 2008.
Institute of Medicine. Delivering High-Quality Cancer Care: Charting a New Course for a System in Crisis. Washington, DC: National Academies Press; 2013.
Sprandio JD. Oncology patient-centered medical home and accountable cancer care. Commun Oncol. 2010;7:565-572.
Butcher L. How oncologists are bending the cancer cost curve. Oncology Times. 2013;35:5-6.
Newcomer LN, Gould B, Page RD, et al. Changing physician incentives for affordable, quality cancer care: results of an episode payment model. J Oncol Pract. 2014;10:322-326.
Medicare Access and CHIP Reauthorization Act of 2015, Pub L No. 114-10, 129 Stat 87.
Quality Payment Program. Executive Summary. MACRA. October 14, 2016. https://qpp.cms.gov/docs/QPP_Executive_Summary_of_Final_Rule.pdf. Accessed November 14, 2016.